This event is a setting for welcoming all 2011 Performing Arts Market in Seoul attendees and providing an exchange opportunity.
Time and venue : Oct. 10(Mon),18:30-19:30 | Outdoor Courtyard, National Theater Company of Korea
Organizer : National Theater Company of Korea


At the event, the 2011 Performing Arts Market is declared officially under way, and major Korean and overseas attendees are introduced. Including a celebratory address and performance, this event is followed by a reception where attendees can enjoy an after-lunch conversation.
Ceremony
: Oct. 11(Tue), 11:00 - 12:00 | KB Haneul Youth Theater, The National Theater of Korea
Reception
: Oct. 11(Tue), 12:00 - 13:00 | first floor lobby, Main Hall HAE, The National Theater of Korea
*For your inquiry : +82-(0)2-708-2276 /
registration@pams.or.kr
Opening Performance
: Selection of Scenes from Tempest, Mokhwa Repertory Company (15 minutes)
- Officially invited to 2011 Edinburgh International Festival
- Won Herald Angel award at 2011 Edinburgh International Festival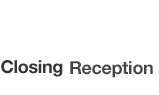 This event marks the official end of the 2011 Performing Arts Market and is an occasion for exchanges among attendees.
Time and venue : Oct. 14(Fri), 18:00-22:00 | Culture Station Seoul 284(Old Seoul Station)
Organizer : Korea Arts Management Service
Closing Party : We Are the Art!
KWON Byung-jun, Sound Artist, LEE Deok, Visual Artist, Dalparan (Techno DJ)