Promote your group and work through the wide variety of networking programs available at PAMS. Among the programs prepared for PAMS professionals are the Booth Exhibition, where they can promote their work and current projects, Speed Dating, where they can meet performing arts professionals from Korea and overseas and Round Tables, where professionals gather in topic groups to talk about their specific experiences.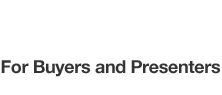 Take part in the programs that provide a vivid look at the performing arts in Korea and countries overseas. Buyers and presenters can access performance information through a variety of channels, including PAMS Choice, a showcase for thirteen competitively selected Korean performances, the International Showcase, part of this year's Asia Focus and the unofficial showcase PAMS Link. New perspectives and ideas on international collaboration can also be found at the Asia Focus Session and Looking for International Partners.

For performing arts professionals, we recommend not only the array of programs mentioned above but also a specially prepared program at PAMS 2011. The Asia Focus Session is an open discussion forum where participants can find out about areas of interest in Asia and discuss possibilities for collaborative efforts with Asian countries. We look forward to seeing you at these occasions for gathering a wealth of information on international collaborations.


Booths: Click "Apply" button on Booth Exhibition page > Enter registrant information > Complete payment > Enter booth and additional registrant information > Registration complete

Individuals: Click on "Apply" button on Individual Registration page > Enter registrant information > Complete payment \Registration complete

※ Once your registration is complete, you can use the participant login service.
After logging in, you can edit personal and booth information on the MY PAMS page listed above and make reservations for specific programs that require prior application.